Description
RECEIVE 2 X FREE BAGS OF PELLLETS WHEN YOU PURCHASE THE TREK AND CART UNTIL THE 28TH NOVEMBER
Information
The TREK model is the ultimate portable grill. It comes with a digital WiFi controller (control and monitor through our iOS or Android mobile application), a meat probe, a peaked lid for rib racks, a convenience tray with utensil hooks, and Sense-Mate, a thermal sensor which constantly monitors grill temperature. The grill can run on 12V or 240AC so it's perfect for home or camping, tailgating, hunting, house-boating, music festivals or anywhere you can take it! Open flame technology grease trays are optional and can be purchased in our parts section.
Check out the Trek Cart for the ultimate trek setup
Technical Specs
Voltage 12V with 240V Adapter
Wattage 2W – 165W
Weight 63 LBS
Height 24 in.
Width 32 in.
Depth 16 in.
Surface Cooking Area 219 sq in.
Auger Motor RPM 4.7~5.2
Fan Motor RPM 0.45A; 4100 RPM
Grease Tray 13 Guage Steel
Igniter 12V; 100W
Height of Cooking Surface to Lid 7.75 in. clearance
Hopper Capacity (LBS of pellets) 9 LBS
Grill Functionality
A motor turns the auger which feeds pellets into the firebox. There, a heat rod automatically ignites the pellets and a variable speed fan keeps them burning. The Venturi-style firebox is lined with vertical vents creating a burn pot cyclone of air flow for maximum heat and complete combustion of the pellets with minimal waste.  A heat shield creates an even distribution of heat and pure hardwood smoke throughout the grill chamber.
Pellet Grill Features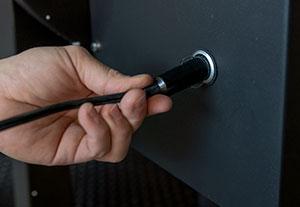 12V Direct Power
The new standard in outdoor BBQ provides for more safe and efficient power consumption, faster start ups, and greater pellet fuel economy.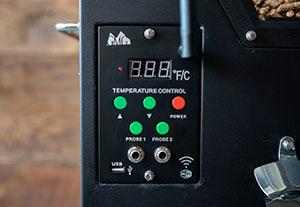 Digital Controller
Designed for precise temperature management with a 150°-550°F range with 5° increment control. Includes WiFi Smart Control, dual meat probes and a USB charging port.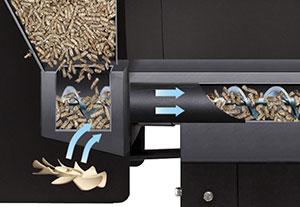 Auger System
Includes a micro-adjusted variable speed fan and motor with increased RPM's to maintain a precise efficient feed of oxygen and pellets through the auger into the firebox.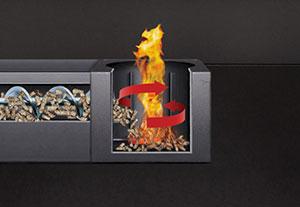 Firebox
The Venturi-style design creates a burn pot cyclone of airflow for maximum heat distribution and complete combustion of the pellets with minimal waste.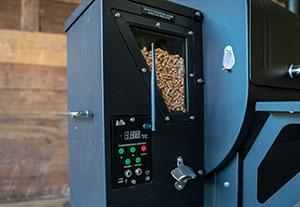 Pellet Hopper
Optimal 18 lb pellet capacity with pellet view window to keep an eye on your pellet usage. Comes standard with a pellet door on back for easy pellet clean out and a convenient bottle opener on the front.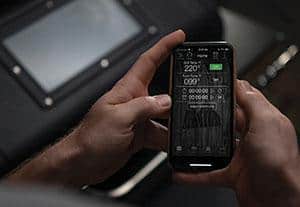 WiFi Smart Control
Control and monitor grill and internal food temps to-the-degree and on-the-go from the GMG App with access to a huge selection of recipes and grilling profiles.